What did you miss?
Catchup and get Refreshed on finance news each week
Hi,
Did you know that if you had invested Rs. 3 lacs in this company in 2002, the value of your holding at the peak of 2018 would have been
Rs. 175 Crs. Which company are we talking about?
Hint- It's badly needed in last 2-3 months
---
Numbers that matter to us📈📊
Numbers which we want at the top of our minds. No mind-numbing charts, ratios or trends which don't add any value usually

---
TL;DR- Best of Twitter threads, podcasts, and blogs
Enjoy the best reads as we curate things for you.
A brilliant Twitter thread on luxury. Our fav line

The luxury product corresponds To a dream. Dreams are an integral part of human beings. They don't need to be satisfied, sometimes their existence alone makes us happy. So at it's core luxury is a dream, a promise.

How Indian Youth are giving up on marriage. Doesn't that change all the traditional financial planning tools !!

Among millennials, 19 percent aren't interested in either children or marriage. Another 8 percent want children but are not interested in marriage. Among post-millennials (or Gen Z adults), 23 percent aren't interested in either children or marriage.

While everyone has been cheering Joe Rogan's deal with Spotify here is a counter-argument to how he got ripped off

Losing his relationship with his subscribers

Building someone else's business/recurring revenue instead of his own

A smaller audience and less impact
---
Trending in Finance
Moratorium for Banks/NBFC's and its impact
One of the trending topics last week was the impact of the moratorium on banks and financial institutions.
The chart below shows how much of the book of these institutions are under moratorium.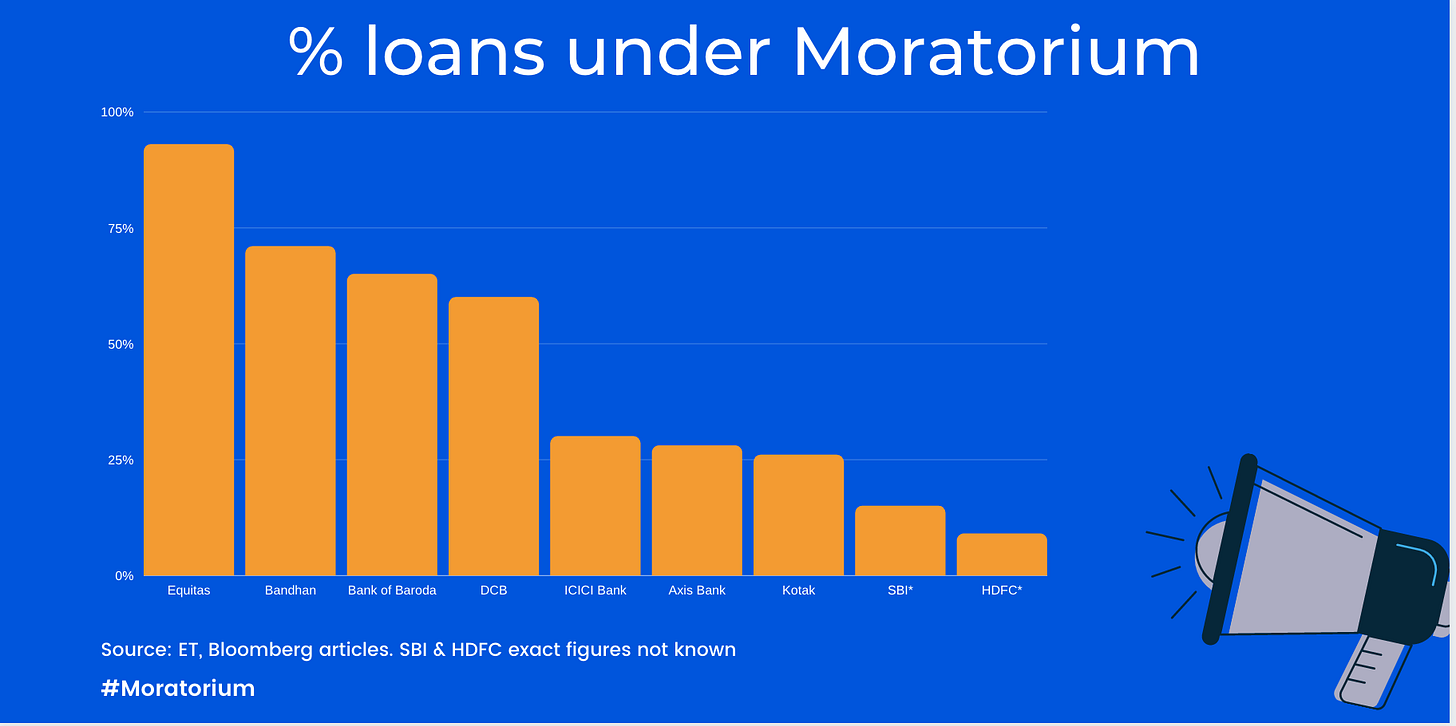 Ok, so what happens due to this? Let's look at it from the lens of three subjects:

1) Mathematics

NPA's don't get reported immediately. The actual impact of, therefore, the economic slowdown and the recovery ( if it happens) will be seen only after six months. It means that banks and NBFC's with significant moratorium need to prepare for probably an upcoming NPA crisis. How do they do get ready for the crisis? By raising money which is tough in this environment except for Mota Bhai :).

The problem is an excellent case of maths on estimating the probability of defaults and then planning cash flows and then raising cash

2) Behaviour Science:

Moral Hazard is the concept that individuals have incentives to alter their behaviour when others bear their risk or bad-decision making. In this case, this is an actual risk. There is a big chance that Indian borrower might think they don't need to pay. Again financial institutions have to do a massive outreach campaign to educate customers

3) Game Theory

NBFC's who don't have access to easy deposit will be in pain as they need to borrow from banks who post looking these moratorium numbers will be very reluctant to lend to them. So since both NBFC's and Banks won't cooperate the outcome apparently of this mess will be a sub-optimum one.
---
Chart of the week: While markets have risen we are still way off from highs 😞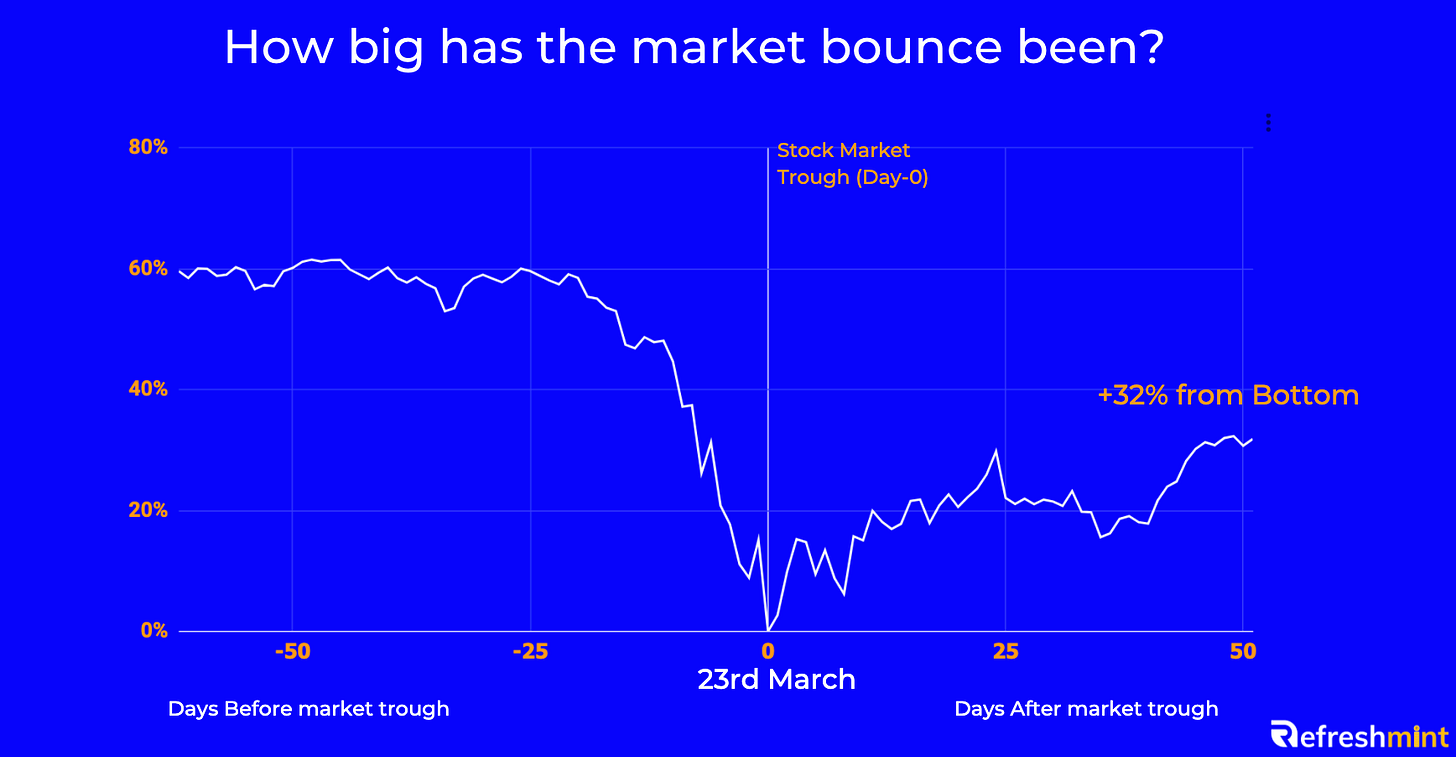 ---
Answer to question:👍
The answer is Symphony, the AC cooler company. In 2002, it was almost bankrupt and quoted at Rs.0.36. It turned around to dominate the cooler space and in 2018 quoted at 2141.
However, the key point is that these numbers look great as quiz questions, in reality holding these stocks for so long is almost impossible.
---
If you love this letter please do spread your love by sharing it. 😍😍
If you like it then keep reading, so that we make you love it !!
Keep Smiling and Stay Safe