Gold: The Safest Asset
W.T…Finance — a single unbiased source for financial signals which matter to you.
Gold we all know has a special for Indians, and by gold, we don't mean the sovereign bond or ETF gold but hard physical gold.
Knowingly or unknowingly, it becomes one of the most significant asset classes we own.
However, the investing community is hugely divided over this as an asset class. We believe that much narrative against gold comes from the Warren Buffet school of investment which is coloured in its view by the utility of gold in US society.
Btw, do you know who introduced Gold Coins in India and when?
Scroll down
---
Numbers that matter to us 📉📈

---
TL;DR- Best of Articles, Tweets, Videos and blogs 📖📖
The golden ones for the week
---
Quiz Answer:
Kushan emperor Vima Kadaphises is said to be responsible for introducing gold coins to India, around 100 CE. Vima was the predecessor of Kanishka the Great, the fifth Kushan King, who ruled virtually all of northern India.
The Kushan empire extended from southern Uzbekistan and Tajikistan, through much of present-day Afghanistan and Pakistan, most of Northern India, including Kashmir, to Pataliputra, which is now known as Patna, the state capital of Bihar.
---
Why is gold valuable by Nick Maggiulli
The article is probably one of the best on why gold is a unique investment, and more importantly, it also tells who should invest in gold and who should not.
Few Key points
This relationship between gold's stock and its flow makes it the metaphoric "goldilocks" of Earthly metals— rare enough to be prized, but common enough to be found and utilized throughout the world.  Without this relative scarcity, gold might have been just another glittering rock.

The immense durability of gold makes it one of the few things in nature that can act as a true store of value.  This is why gold has been used as a currency throughout history—it doesn't break down through daily use. 

So, you want to own gold for the long run?  If so, you better be comfortable with multi-decade drawdowns. This provides evidence that gold can be a useful component of a portfolio even if it is a scary asset class to hold on its own.

The reasoning for gold's ability to add value at the portfolio level is its low correlation to other traditional risky asset classes (i.e. stocks)
---
Chart of Week
Comparing returns of Gold and Nifty over the last 10 years.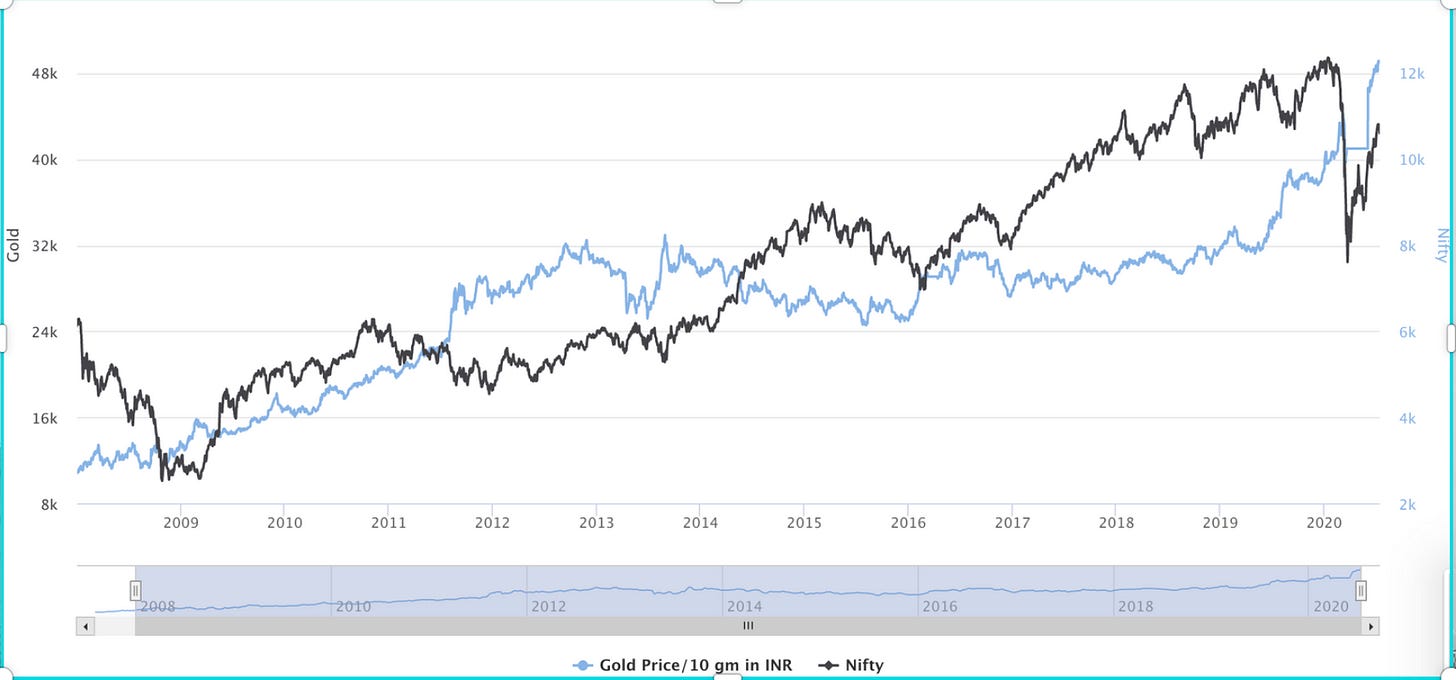 ---
Join more than 3500 readers who are looking to get a " Refreshing" view on Finance.
If you love this letter please do spread your love by sharing it. 😍😍.
---